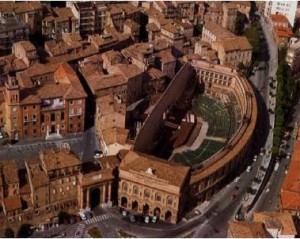 San Severino Marche, located in the heart of Marche and Italy, is the ideal base for excursions in the Marche and Umbria regions.
There are many possible itineraries, which can be modulated on the basis of your specific tastes. On your arrival we will be happy to provide you with all the necessary information for the best possible organization of your stay.
Some tips for short journeys within one hour of distance from San Severino Marche by car:
For those who love the seaside with a sandy beach and very low water, ideal for children, we suggest Civitanova Marche and Porto Potenza Picena. For those who love a pebble beach and walking areas along the sea, we propose Porto Recanati. The area of Monte Conero, with the enchanting villages of Numana and Sirolo as well as the short beaches of Portonovo are the ideal destination for those who love cliffs. Close to San Severino Marche there are also two lakes set in the middle of mild and green hills: Castriccioni lake, near Cingoli, and Fiastra lake within the National Park of Monti Sibillini . Those who love the mountain will find full satisfaction in the evocative landscapes of Sibillini Mountains and the many excursions possible within the National Park, up to the very particular Pilato lakes, the only natural lakes in the Marche, accessible only on foot to over 2,000 m height.
Lovers of art can take their pick: some very good examples are the Art Gallery or San Filippo Church in Camerino, the magnificent Basilica of San Nicola in Tolentino, Beata Mattia Nazarei church in Matelica, Abbadia di Fiastra, Sferisterio in Macerata, designed and engineered by the "settempedano" neoclassical architect Ireneo Aleandri, as well as Palazzo Ricci Museum and the Coach Museum, the Church of Santa Maria a Pié di Chienti in Montecosaro, the itineraries of Lorenzo Lotto in Mogliano, Cingoli, Monte San Giusto and Recanati, of Carlo and Vittore Crivelli in Corridonia, Macerata, Monte San Martino, San Ginesio, Sarnano and of course, San Severino Marche. Lorenzo and Jacopo Salimbeni's itinerary starts from San Severino Marche to be continued in San Ginesio, Cingoli and Urbino.
For further details:
Here are our suggestions for one-day journeys from San Severino Marche: Frasassi caves in Genga and the Paper Museum in Fabriano. the town of Gubbio, the Sanctuary of Loreto with Lorenzo Lotto paintings both in Loreto and Recanati, the town of Fermo. Even the towns of Ascoli Piceno, Urbino and Assisi are just less than two hours away from San Severino Marche by car.