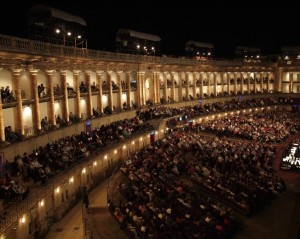 50th Macerata Opera Festival: Opera is Female
In 2014 Macerata celebrates the 50th anniversary of its opera season at the Sferisterio with three great heroines of the classical melodrama. They will come through new productions of Aida – which inaugurated the very first season in 1921 – and Tosca, along with a reprise of the well-known Traviata of the mirrors by Brockhaus and Svoboda. All three operas will have a female conductor.
As a complement to the opera season, there will be conferences, exhibitions and a host of performances as part of the Festival Off, which comes to its third edition.
We grant a 10% special discount to all our guests showing an entrance ticket to the Opera Festival spectacles: