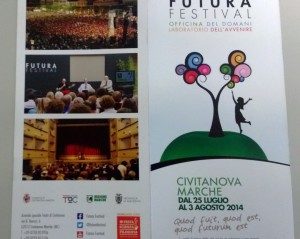 Futura Festival will take place in the sea town of Civitanova Marche, from 25th July to 3rd August 2014.
It's a cultural journey from the past through the present up to the possible future. All the details in:
www.futurafestival.it
San Severino Marche is only at 50 km speedway from Civitanova, here you can enjoy the fresh and relaxing atmosphere of countryside after your immersion in the busy beach and in the deep thoughts of nowadays intelligentsia. We wait for you!